Welcome to the Bartimaeus Wiki! The wiki for the Bartimaeus series that anyone can edit.


This Pentacle is in desperate need of editing by any Magicians who know anything about the Bartimaeus Series. Please: Edit! We are also in need of administrators willing to maintain the wiki - contribute and show your love for the series and you could gain extra privileges.
The Books
Graphic Novels
What is Bartimaeus?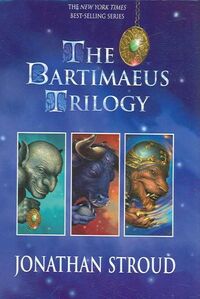 The Bartimaeus Series
, also known as the
Bartimaeus Sequence
, and the
Bartimaeus Cycle
, is a four-book series - three main books, and a prequel.
The main trilogy revolves around the young magician, Nathaniel, the djinni, Bartimaeus, and the non-magical commoner, Kitty Jones. The story is set in an alternate London, where the government is run by magicians, with their slaves, the "demons". The series itself follows Nathaniel as he grows up, and continues to rely on good, old Bartimaeus (5000 years, to be approximate). Nathaniel, now the Information Minister, John Mandrake, soon learns of Kitty, and the elusive Resistance, of which she is a part of. But before long, the commoners start to rebel and riot. Mandrake and Bartimaeus, along with the help of Kitty, must try and bring peace between magicians and commoners, before everything is too late.

Read more about the series here...

Affiliated Wikis


Featured Article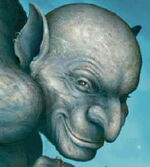 Demon
is a general term for any of the supernatural entities originating in The Other Place and commanded by magicians in the alternate world of
The Bartimaeus Trilogy
. Although considered disparaging and more than a little disrespectful by Bartimaeus, it is commonly used by magicians, particularly during their incantations.
Read more about demons here...

Featured Media
Poll
Which of these four main characters is your favorite?
Featured Character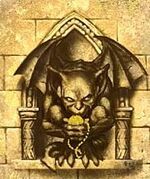 Bartimaeus is an ancient djinni of the fourteenth level (although he has also been referred to as a fourth level djinni) who narrates much of the story and is one of the three main protagonists of the trilogy. He has had many well known masters and although not the most powerful of djinn.
Read more about Bartimaeus here...
Demonic Blogs
Create blog post
Hi,

I'm Alex, and i very recently fell head over heels back into the fandom and was excited to find the wikia page! 

Why is the term "Demon" used so geneoursly, when it is very early in the books expla…

Read more >

The poll on the favorite book in the series of visitors to this wiki had been up since May 28 of last year, so I thought it might be time for a new poll, which I have now posted.

Here are the results …

Read more >
See more >
Helping Out
To write a new article, O Master, just enter the article title in the box below, and I shall publish it!
For more information about templates, categories, adding content, and general help- click here!
Community content is available under
CC-BY-SA
unless otherwise noted.